Foundations for the Future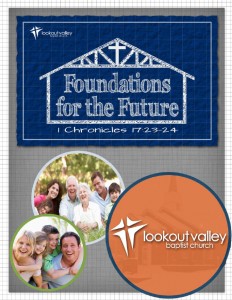 We have begun the second phase of our campaign to renovate our current church facilities to better handle our ministry needs. During this phase, we will be renovating the Timothy House, moving the nursery to the first floor of the education building, and relocating the church offices to the current nursery building.
We would love to have your help in this process! Email
wade@lookoutvalley.org
to learn how you can be involved in our renovation process! We need help in every area of construction, general clean up, and even fixing snacks and meals for our workers.
"One generation shall praise Your works to another, and shall declare Your mighty acts." (Psalm 145:4)
This is our primary responsibility to the children and youth God has given us to lead. We have entered into a Capital Campaign in order to enable our church to more effectively accomplish this Biblical directive. To learn all about the vision and goals of this campaign, please see this information Brochure.