WORSHIP SERVICE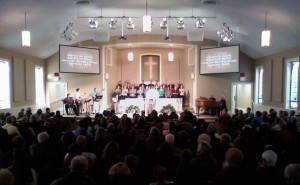 Our weekly services are designed for people to connect personally with God. Our leadership works diligently to pray, plan and prepare to lead our church in it's highest priority — the worship of God.
What To Expect
Our services always begin with prayer as we ask God to be glorified in our worship and to make Himself known to us through the praying, singing, reading and preaching of the gospel.
Our celebration choir will then direct our attention to the Lord as they lead us into worship with the praise band through psalms, hymns and spiritual songs (Eph 5:19, Col 3:16)
We put a priority on prayer, so at the very center of our service we share in a directed prayer time where we bring our petitions and praise to the Lord.
Following our offering our pastor preaches an expositional sermon. We then sing a song of commitment in response to the truth revealed through His Word.
You will see people dressed in a broad range of styles – from jeans & t-shirt to suit & tie. Just come how you feel comfortable!
Worship Arts
We're always looking for people who want to lead out in our worship through involvement in the worship arts including: celebration choir, praise band, soloists, audio/visual, interpretive movement — and more!